Our Location
EAA Chapter 943 is located on beautiful Amelia Island, Florida and we operate out of the Fernandina Beach Municipal Airport (KFHB). Our Chapter hangar is Hanger #1 located in the first row of T-hangers.
Our Meetings
Chapter meetings are held the first Wednesday of every month at 6:30 PM. Meetings are held in the upstairs conference room of the Fernandina Beach Municipal Airport Terminal Building, home of Bent Wing Flight Services FBO, located at 650 Airport Road, Fernandina Beach, FL 32034
Membership in the national EAA is encouraged but not required, with the exception that national membership is required in order to qualify to fly Young Eagles. Chapter annual dues are $10 starting in January of each year.
Chapter Officers
President: Tom Piscitello
Vice President: Brad Wood
Secretary: Jeff Schlueter
Treasurer: Andrew Curtin
Member-at-Large: Will DeCanio
Web Master: Gordon Reilly
Additional Activities
On the first Saturday after the first Wednesday of the month (the first Saturday after our monthly meeting), Chapter 943 hosts a no cost hot dog lunch for members, guests, and any individuals interested in supporting the chapter and local aviation interests. The lunch is heald from 11:30 AM until 12:30 PM at our Chapter Hangar #1 located in the first row of T-hangers, just off taxiway A, facing south toward the open airfield.
In addition chapter members participate with other local volunteers for local Airport Support Activities throughout the year helping improve airport operations and safety, and to improve fellowship between Chapter members and the community at large.
Our Membership
Our members come from all walks of life, commercial pilots, aviation instructors, experimental aircraft builders, private and student pilots, and people with an interest in the community and aviation in general.

We encourage anyone with an interest in aviation to join the Chapter or volunteer to help with our programs. Together we can "slip the surly bonds of earth . . . and dance the skies on laughter-silvered wings."
Airport Support Activities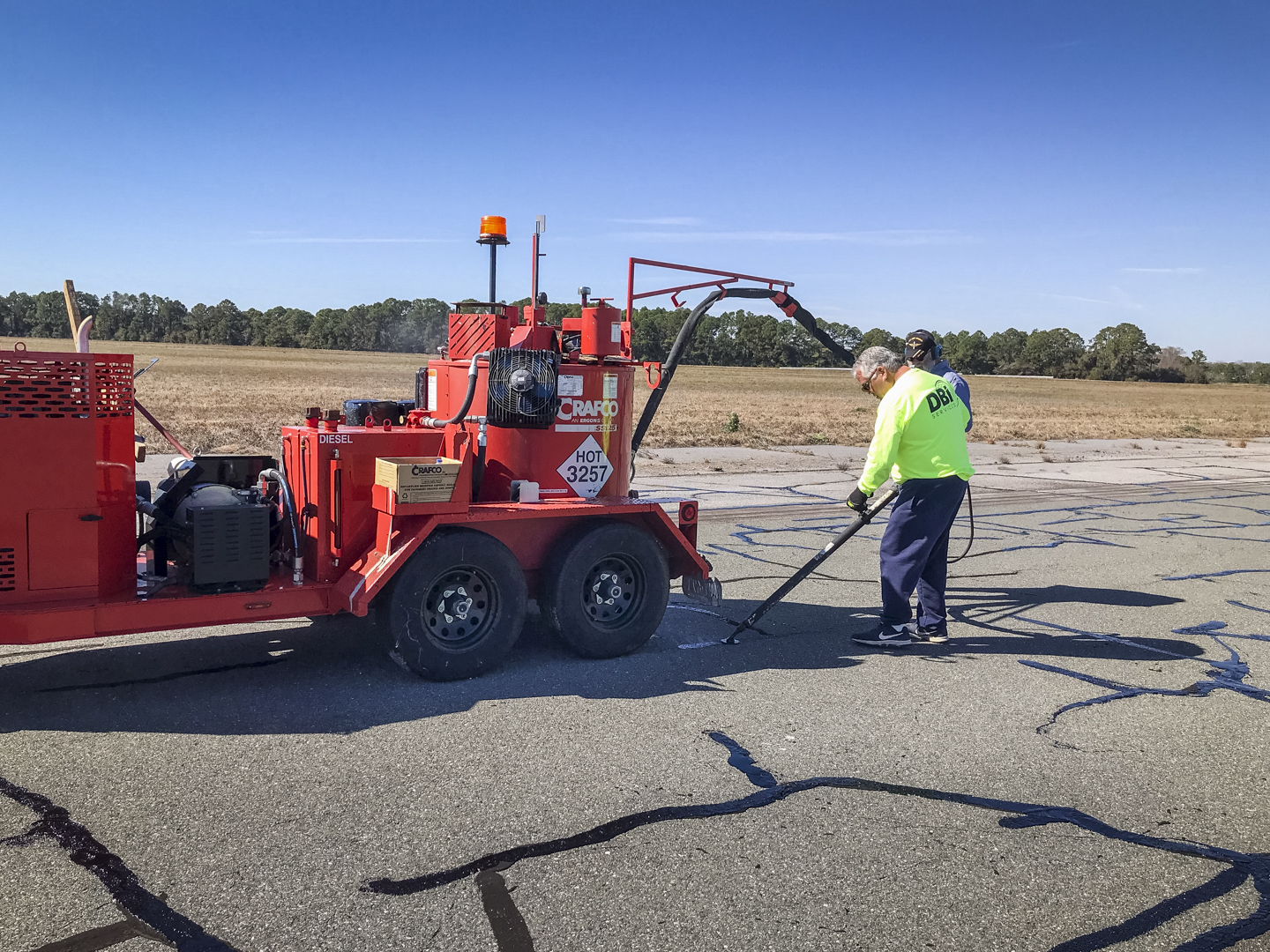 Crack Sealing FHB 2022
Members of EAA Chapter 943 frequently volunteer to assist in the maintenance support for the Fernandina Municiple Airport.
Last Revised 11/24/2022
Copyright © 2019 EAA Chapter 943
680 Airport Rd
Fernandina Beach, Florida 32034
EAAchapter943inc@gmail.com