Dedicated to providing support to aviation career oriented high school students.
Aerospace Education Mission
It is our mission to provide aviation flight training funding in support of dedicated students, in providing an opportunity to complete flight training and achive their private pilot's certificate, as granted by the Federal Aviation Administration.
Zero Administrative Costs
One hundred percent of donations are made available for aviation funding without any administrative overhead burden. As an all volunteer organization, EAA Chapter 943 members administer all donation proceeds in a professional manner. The fund is subject to regular audits by a Certified Public Accountant and open to inspection.
Giving Opportunities
The EAA Chapter 943 Aerospace Education Fund collaborates with the Nassau County School District by financing selected high school students that have achieved the milestones of solo flight and passing their private pilot written exam. The selected students will be committed to pursuing an aviation career.

Your generous gift to the EAA Chapter 943 Aerospace Education Fund illustrates your commitment to our mission of growing youth participation in aviation.
Providing careful control of all funding.

Service Overview.
EAA Chapter 943 works with the Nassau County (FL) School Board to promote interest in STEM and aviation education at the Junior High and High School levels. The County owns a Diamond Katana training aircraft, and working with a local flight instructor the School Board has developed a curriculum that takes students through ground school and solo flight.
Fernandina Beach High School is home to the premier aviation program in the state of Florida, and the only public school with its own airplane. The program includes rocketry, drones, aircraft design, and an FAA approved ground school. The course instructor is an FAA Certified Flight Instructor and a FAA Aircraft Mechanic.
During the 2018-2019 academic year the Aerospace Technologies course at Fernandina Beach High School received an aircraft donation. This has allowed the Aerospace Technologies program to offer students flight training and experience in basic aircraft maintenance.
This is where the EAA Chapter 943 Aerospace Education Fund steps in. Our goal is to sponsor at least two students per year to go "From Solo to Private." We provide funding to pay for instructor fees, aircraft rental and general supplies that are needed to help these budding aviators earn their wings.
As a registered 501(c)(3) charitable organization in the State of Florida, we have established the Aerospace Education Fund to collect donations to support this effort. And because our organization is lean and mean, we pledge that every penny of every dollar that is donated will go directly toward the aviation funding support! Any administrative costs are paid out of general funds and member dues.
If you would like to donate to the Aerospace Education Fund to help the next generation of pilots, please visit our donations page.
The Need for more Pilots
The need for new commercial aviation pilots in the United States is estimated to reach 100,000 over the next 15 years. Add an additional 20,000 military pilots and it becomes clear there will be a genuine shortage of flight crews in the coming years. Commercial airlines and the military will be competing just to cover the estimated 30,000 pilots that will retire from the commercial airlines in the next 5 to 6 years. Replacement pilots for the airlines do not just appear. They go through a lengthy process of study, training, and the buildup of experience before they reach the FAA requirement for first officers of 1,500 hours total time as a pilot. Considering the competition between the commercial airlines and the military to attract and to retain experienced pilots, and the expected expansion in commercial aviation pursuing the vocation of being a pilot is a viable alternative to other professional and trade careers.
A shortage of pilots is becoming more of a genuine issue facing US regional airlines as more captains reach the mandatory retirement age of 65. Now is a great time for high school and college students to consider a career as a military or commercial pilot.
As the need for future pilots is increasing, the number of new pilots entering training is contracting. The high cost of flight training and a general lack of interest in young men and women pursuing a career as a pilot will exacerbate the issue of replacement pilots. In the past, many airline pilots have come from a steady source of retiring military crews. The military services are now in a full competition with the airlines to obtain and retain experienced pilots and the focus for the airlines has shifted more to civilian-trained pilots. Aspiring students with the interest, the first major hurdle is the cost of attaining a Private Pilot's Certificate.
It is with this first, and perhaps most important step that the EAA Chapter 943 has adopted as a primary mission.
The expected supply and demand curves are expected to not match and steps need to be taken to improve the appeal, affordability and access to aviation piloting careers. It is the Chapter goal to provide a means to achieving that first step to an aviation career as a pilot to as many entry stage students as possible.
The trend is clear and the airline industry itself is slowly gearing up to offer partly sponsored opportunities for aspiring pilots to receive the requisite training. The available airline sponsored opportunities, although limited and highly competitive, assignment will consider both youth and experience. It all begins with the first major step into the world of flight training, and all pilots start with the first hour at the controls of an airplane.
Authorizing Documents
Florida Registration
A copy of the official registration and financial information may be obtained from the Division of Consumer Services by calling the toll-free number within the State. Registration does not imply endorsement, approval, or recommendation by the State. FDACS's toll-free number is 1-800-HELP-FLA (435-7352).
501(c)(3) Document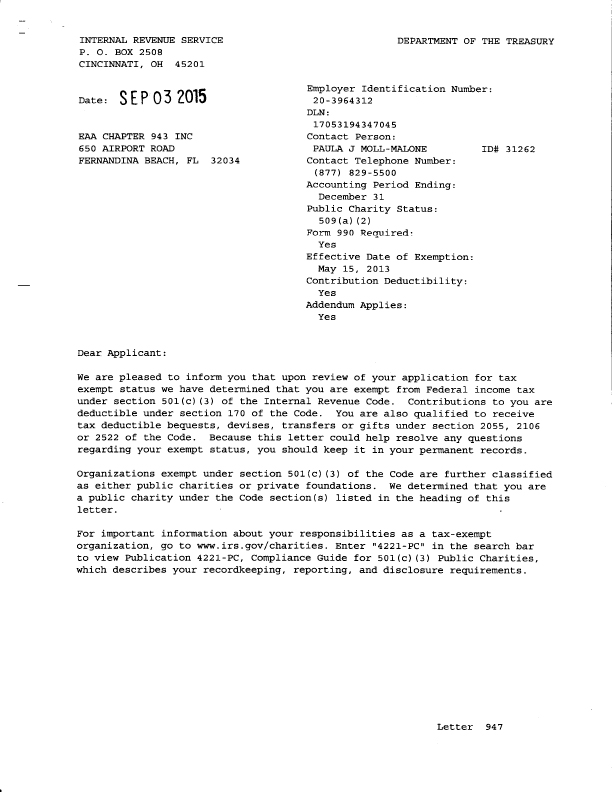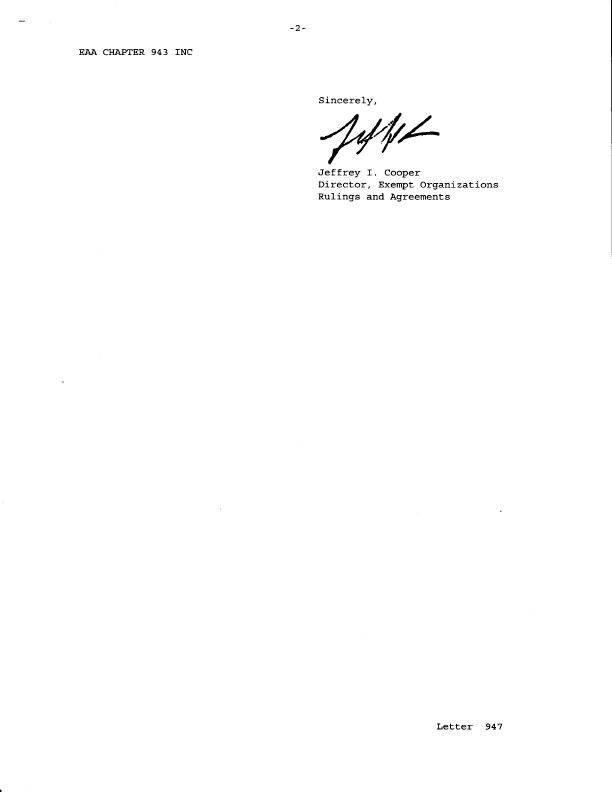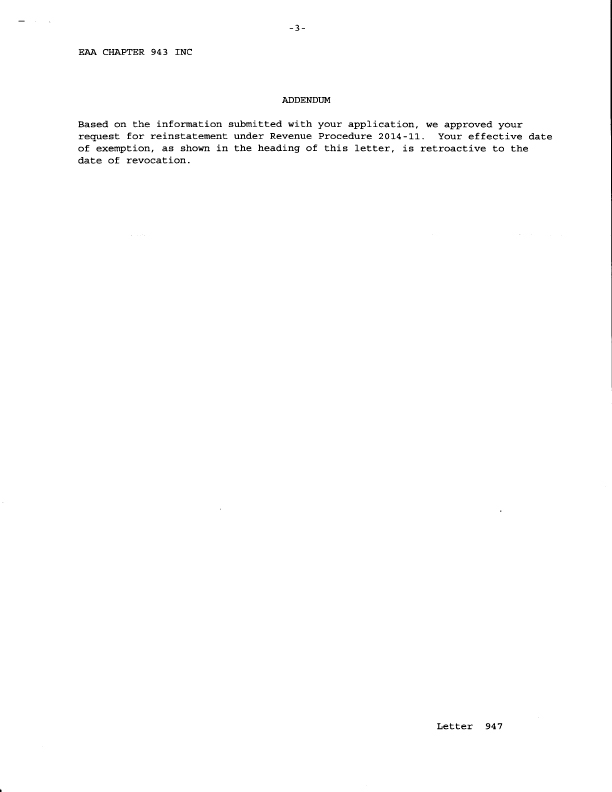 Annual Report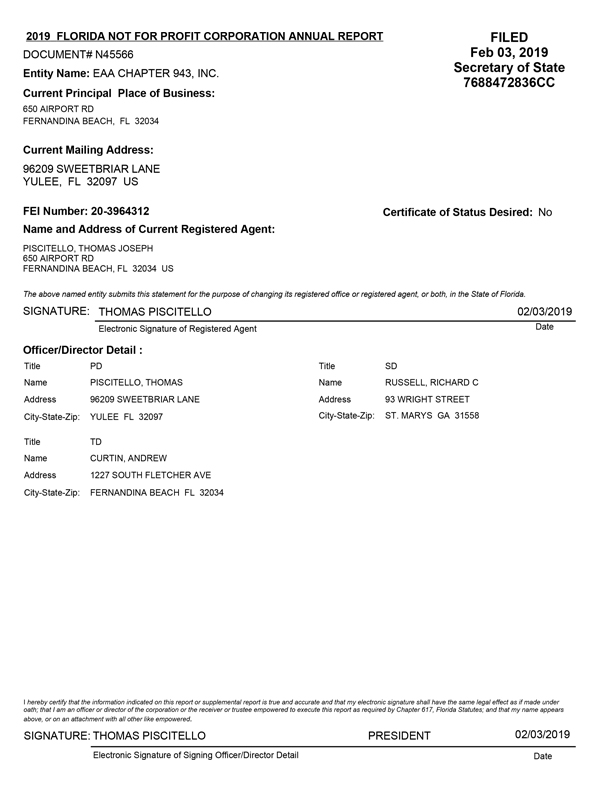 Last Revised 11/24/2022
Copyright © 2019 EAA Chapter 943
680 Airport Rd
Fernandina Beach, Florida 32034
EAAchapter943inc@gmail.com